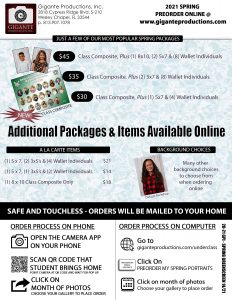 Spring Picture Day information
Gigante Productions
Spring individual pictures are coming on Wednesday, February 24, 2021. I have included some tips to make your Spring picture day run a little smoother J
Tips for a smooth Spring picture day……
Attached to this email is the teacher sign up, a picture day flyer, the link to the preorder site for your website and a pdf copy of the Spring order information.  Please advertise your Spring picture day on your marquee and send the Spring order information pdf and flyer via social media. This will increase your picture day sales therefore increase your Spring commission.
Each teacher must be signed up on the attached sign up sheet. If you need additional times, they may be added after the last class is scheduled or rearrange photographer breaks. Please fill it out and email it back to me (karla@giganteproductions.com)  2-4 days prior to your scheduled picture day. Please email a staff roster so we have exact spelling of the teacher's name for the class composite.
Students should be lined up ABC order by last name for individual pictures. Each child will then receive a student camera card for their individual pictures. There will be no class picture this year so each teacher will need to take an individual picture for the Spring class composite.  Additionally there will be no complimentary Spring teacher packages this time around.
Remember, we are taking the pictures on a greenscreens so remind the students to NO GREEN!